Ian McLarty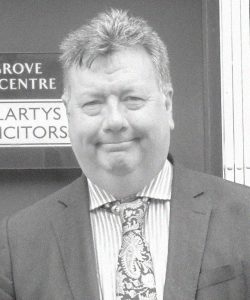 Ian McLarty Qualified as a Solicitor having done a Law and Politics Degree at Oxford Brookes University and the Post-Graduate Law Qualification at Guilford Law School. He has Higher Rights of Audience to practice in the Crown Court and appears there regularly.
In 1989 he commenced working as a lawyer with Breeze Benton & Co in Tower Hamlets. Aged 27 he became a partner in that firm before 2 years later becoming head of its Crime Department at a time the firm was quoted in the top lawyers directory Chambers as one of only two firms who had a rated specialism in drug related matters. Whilst at this firm he participated in a number of leading cases often involving Customs & Excise Headquarters based in Lower Thames Street. Ian McLarty attended as representative of this firm at the Court of Appeal Hearing which used one of the first rulings concerning the ESDA test (allegation of police fabricating notebooks) overturning the conviction of a number of people said to be notorious members of the Chelsea Headhunters – this technique was then later used in a number of the most prominent miscarriages of justice cases.
In 1999 Ian moved to Gilbert Turner Coomber located in Walthamstow with a brief to build their criminal department. This he achieved and at the time he left that firm was the largest criminal department/firm in the London Borough of Waltham Forest. Ian left because he had decided to open his own firm.
Welcoming a new challenge, in difficult times due to legal aid cutbacks, Ian decided to open a firm in his own name in September 2006. Since this time the firm has over doubled in size and is indisputably the largest firm in the locality further expanding so there are now 14 Duty Solicitors and internal advocates representing the firm up to the level of the Court of Appeal successfully.
House of Lords now the Supreme Court
R v François – referred to as the leading case in sentence calculation;
Court of Appeal
R v Michael Robson – overturning of 10 year old conviction for murder on the grounds the Judge had misdirected as to the effect of alcohol and drugs. (Dietschmann direction).
R v Popescu – the Judge ignoring numerous breaches of PACE in relation to interpreter, food, sleep breaks and right to independent free legal advice for a Romanian National in gang rape allegation. Court of Appeal website cited this as one of the top 10 most important cases for 2010, issuing guidance on the future use of ABE transcripts by juries in future trials.
Twaibo Ssejjuko – Sentencing on rape/unlawful sexual intercourse allegation where the Judge appeared to go behind the jury's apparent decision that they accepted he was unaware of the complainant's age.
Fisher & Tyrell – Quashing the conviction of the Defendants on the basis that a jury member married to a police officer known to one of the Defendants sat on the jury. (Further investigation into what had occurred in relation to this matter was carried out by the Criminal Cases Review Commission to assist the Court of Appeal).
R v Harriott – Possession of Firearm. Judicial bias expressed by remarks and interventions during the course of the Crown Court trial. (Whatever the affect of the Judge's remarks the Jury acquitted the Defendant of two drive-by shootings).
R v Duncan – Murder credit for guilty plea, young age of Defendant and whether there was an intention to kill – ways of resolving dispute between Prosecution and Defence if guilty pleas entered . Sentence reduced from a 25 year tariff to a 20 year tariff the Court of Appeal confirmed our assertion that any disputes should be construed in favour of the Defendant or be the subject of evidence being heard. [At the Old Bailey first ever request for a Goodyear indication on a murder case – so quick off the mark the Prosecution had not even developed a protocol with how to deal with such a request!]
R v McDonald-Salmon – Judgment 2 November 2011 reducing the sentence passed on the Appellant for two burglaries where mental health had wrongly beeen held to be an aggravating rather than a mitigating feature. (as now incorporated in the Overarching Principles produced by the Sentencing Guidelines Council).
R v Lewis – Series of stranger rapes. DNA evidence old and new DNA procedures including SGM plus. Abuse of process through lack of material for Defence to inspect. Legal Aid extended to fly over expert from Germany to examine Prosecution's procedures. Subject of Radio 5 Live Investigation by Home Affairs Correspondent Danny Shaw. Lead Barrister/QC in the case Adrian Fulford now sits as a High Court Judge.
Divisional Court / High Court / Judicial Review and Case Stated.
R v AJ – Judicial Review / Case Stated of the decision by the Prosecution to charge a youth Defendant for possession of a knife citing a general policy as the basis of the decision.
R v Plana & Plana – Father who Ian represented at the Crown Court acquitted of fraud in a personal injury claim brought against his former employer. The employer's insurer used undercover detectives to try and show the claim was bogus bringing a further action to the High Court for contempt of court. The Judge accepted the Defence submissions that the acquittal prevented the new proceedings from going ahead against both father and son.
R v Hormoz ex parte Thames Magistrates Court – Customs & Excise Access Orders being granted without the requisite reasonable suspicion.
R v B ex-parte Barking Youth Court – Prosecution amending charges at a late date, double jeopardy and the Defendant having previously been acquitted of one of the elements of harassment allegation preventing further Prosecution.
Burrell – complicated confiscation proceedings under both Criminal Justice Act and Proceeds of Crime Act heard at the Administrative Court at the Royal Courts of Justice due to ongoing Divorce proceedings in which the prosecuting authority including Customs & Excise, SOCO and the Crown Prosecution Service had intervened. (This case resulted from criminal proceedings at both Kingston and Maidstone Crown Courts).
R v M. Robson – Prison Law Review of whether courses provided to life term prisoner were adequate to allow his rehabilitation and release via Parole Board Review (featured in Legal Action Gazette review of prison law);
R v Linahen – foreseeability under the Dangerous Dogs Act – quoted in its aftermath in Archbold.
R v A ex-parte Thames Youth Court – youth right to silence on basis of legal advice uncorroborated complainant evidence.
Crown Court
Galleon case – acted for a number of Defendants on a 25 million pound alcohol diversion case (the case collapsed against all of the Defendants) due to the Prosecution's failures over disclosure.
R v P Robson – three attempted murders client eventually acquitted on all matters said to have occurred in the Dover area. (Due to a misdirection by the Judge in relation to the basis the Prosecution put the case it did take the Court of Appeal to intervene on one of the matters!).
R v Turgot & Others – The Defendant an award winning film maker accused by the Prosecution of being Turkey's largest distributor of heroin right hand man in Western Europe.
R v Tekin – Multimillion pound importation of heroin by a Defendant who was Turkey's former Football Captain.
R v Tabrez Akhtar & Others – Murder case cut throat where outstanding allegation against co-defendant was adduced in evidence. This procedure was confirmed by the Court of Appeal upholding the murder conviction of the co-defendant and the acquittal on that charge of our Defendant.
R v L & Another Central Criminal Court – A female youth Defendant in cut throat defence with her sister in murder allegation of an 87 year old pensioner. Numerous issues within the case including res gestae/dying statement/QC falling ill and junior taking over the case computer expert evidence (retrieving data thought to have been erased by co-defendant) and mother who would have been appropriate adult leaving the Jurisdiction to go to Ireland at the time of trial. – If the case had had any more aspects to it they would have included the proverbial kitchen sink! The Defendant was acquitted of the most serious allegation.
R v Anotiae – Firearms case where the Defendant was shot in both arms by the police, where the Firearms Officer's claimed the Defendant pointed a gun at them causing them to open fire. Having obtained CCTV from the police vehicle itself the Defence were able to challenge the police account leading to the acquittal of the Defendant and the Trial Judge referring the case to Independent Police Complaints Commission (IPCC).
R v Yusuf – Husband and wife in Crash for Cash case. The investigation re-starting when an off-duty Police Inspector was involved in an accident. The officer in the case (OIC) claimed his police department which specialised in insurance fraud had never lost such a case – both Defendants were acquitted unanimously.
R v B – Conspiracy to defraud the Central Clearing Banks.
R v Babina – Deaf Latvian Defendant facilitated throughout trial with the use of a British Sign Language Interpreter – multi-Defendant multi-million pound fraud. Involving sham companies and fake invoices – although convicted she received a suspended sentence.
R v Fallon – Serial frauds using fake wills to conduct what the Judge described as an attack on the Land Registry in England & Wales.
R v Stokes – Defendant's house was raided and over 50 firearms including 3 submachine guns and ammunition were found. The Prosecution appealed the initial sentence as being unduly lenient. But even after this the Defendant was sentenced to only 5 years the mandatory minimum for having an unloaded single firearm by law. (If the weapon, which many were, is a Section 5 Firearm)
R v Zacharia & Son – Father and son accused of large scale class A drugs supply in South London. Substantial probe evidence over a period of months the majority of which the Defence was able to successfully exclude.
R v O, O & Q – Represented three Defendants in multi-handed money laundering case. Voluminous pages of evidence (25,000 pages) analysed and broken down into accessible schedules in order that the Defendants could understand more readily the case against them.
R v Stapley – Driving whilst disqualified The Defendant banned in the 1960's to purportedly 2012. Challenged the Prosecution's ability to prove disqualification which was successful resulting in £2500 wasted costs against the Crown Prosecution Service and eventual restoration of the driving licence to the Defendant.
R v Cassar – Section 18 GBH with intent Defendant accused of stabbing his post office colleague for that colleague's far right views and membership. Having acquitted the Defendant the jury asked Counsel for protection from the alleged victim!
R v Green & Others – Still thought to by the UK's largest single importation of ecstasy valued at over 6 million pounds. The case against both Defendants for whom Ian acted collapsed after the failure of a Public Interest Immunity Argument by the Prosecution.
R v Hussain – Harbouring and firearms matter where observation evidence claimed the Defendant had been seen to put a bag containing one million pounds worth of heroin followed by a firearm and silencer into the boot of a car. The jury unanimously acquitted in 9 minutes – still the quickest acquittal on such a serious matter in Ian's 25 years plus of experience.
R v Levy – Counterfeit Goods/Trading Standards. Argument that delay in and of itself can amount to abuse of process and breach the European Convention on Human Rights. Resulted in significant reduction of sentence and was an argument taken prior to Criminal Law Review raising the same point.
R v Ward – A serving police officer accused of a penchant for threesomes with underage females.
R v Shealy – Possession of firearm and ammunition mandatory 5 year sentence successfully argued exceptional circumstances and a suspended sentence was imposed.
R v R– Section 18 GBH x 2 and Child Cruelty allegation of mother placing heated hair straighteners on child's penis. After numerous medical experts were called by the Crown the jury upheld the Defence contention assisted by the Defendant's GP that the injury was not a burn but a burst blister.
R v Hodder – Ian's first murder case occurring sufficiently long ago that the Junior Barrister for the Defence in the case is now a Crown Court Judge! Successful provocation defence.
R v Stanislaus Fraud/Deception successful duress defence where the Defendant put forward for a period of months at the behest of her boyfriend she had carried out numerous card transactions.
R v Kalocsai & Others people smuggling for the purposes of prostitution case which the Crown wanted to call neither complainant who had returned to Hungary. Issues over hearsay and ECHR compatibility with questions as to whether Article 6 fair trial rights are compatible with an inability to put a case to an alleged victim.
R v Linzell – murder of a homeless woman in a church yard.
R v Penev – successful abuse of process argument to prevent a third trial in a stranger rape allegation.
R v Greenaway – successful exclusion of evidence (Section 78 PACE) of 20-year-old cold case for robbery and indecent assault.
R v Lee – Affray/Public Order allegation Poll Tax Protester Trafalgar Square "Riot".
Mental Health
R v Ibrar Ahmed – murder reduced to manslaughter after Crown's expert agreed with Defence psychiatrist on diminished responsibility.
R v Gorman – Appeal on attempted murder initially lodged in relation to interpretation of fitness to plead and the appropriateness (or otherwise) of the Pritchard Test involving comparative law including the Florida Legal System.
Private
R v Olszak – Multi-million pound heroin importation in which the Polish Defendant, the driver of a HGV said to have imported the drugs. McLartys took over the case when the Defendant became dissatisfied with his Legal Aid Lawyers having advised the client that transfer of Legal Aid would not be granted by the Court. Having made representations to the Prosecution concerning a number of disclosure issues the Prosecution accepted the Defendant would not receive a fair trial and offered no evidence.
R v Ciftcioglu – False imprisonment allegation where the Defendant was alleged to have prevented his daughter from eloping. After a Defence Statement outlining the nature of his defence and a Skeleton Argument to exclude his interview in which he had neither an interpreter nor the benefit of a Defence Solicitor the Prosecution offered no evidence.
MA – Rape allegation against the owner of a mini cab company that he abducted a woman whilst driving. Having taken over the case from a Duty Solicitor and liaising with the police the matter was marked no further action.
Company Director dragged into a multi-million pound conspiracy to defraud by a professional fraudster. Ian attended personally at all police interviews to establish that not only was the suspect not a party to the fraud but was in fact a victim as a result of which he was asked to be a Prosecution witness.
A Doctor accused of sexual touching other members of staff at the hospital. Ian attended on the matter, client paid for the attendance given the ramifications of any conviction or caution. Having represented him at a voluntary attendance the police contacted the next day to confirm that no further action was to be taken.
Ian has ongoing private cases in Northampton and Lewes Crown Courts for allegations of rape and possession with intent to supply drugs.
Police Stations
The person named as prime suspect according to the front page of the Evening Standard in the Margaret Muller Victoria Park murder (no charges resulted).
R v Geogiou & Others – Multimillion pound cigarette smuggling/ duty evasion case. Ian represented the principal from his attendance at Customs & Excise Headquarters where he secured the client's release only for him to be immediately arrested, (Abuse of Process) after successful argument whilst client was detained that his PACE clock had run out This was dealt with by voir dire in the case which although allowed to continue at that stage collapsed after the Prosecution failed on a Public Interest Immunity argument having already conceded they had destroyed the bulk of the relevant exhibits.
I. Fechete & Others – Section 18 GBH – delay potential abuse of process resulting in complaint to the Independent Police Complainant's Commission.
A caution on an indecent assault allegation dating back to the 80's made by a complainant now a serving police officer.
A Nun accused of child cruelty by two sets of siblings from a Care Home in the 70's. The outcome was no further action.
A Senior Immigration Officer accused of a racially aggravated offence by a Traffic Warden when he challenged the legality of a parking ticket and the immigration status of the Parking Attendant. The result was no further action after Ian represented him in a single interview at the police station.
A County Cricketer accused of sexual touching of two different members of staff. Having been interviewed about both allegations both were not proceed with by the police.
Son of two famous actors accused of rape with counter allegations of blackmail. The allegation against him resulted in no further action at the police station.
General
Ian has acted in a number of cases that have attracted front page media attention which have been handled with discretion and for the benefit of the client not the publicity for the firm. He has handled some of the most emotionally difficult cases which have included inter-familial rape, sadomasochism, and serial killer allegations.
The only client Ian has ever refused to act for was the first BNP Counsellor elected in the UK who wanted representation over what was described as a race attack.
Ian McLarty has also been involved in a total of 100 plus murder/attempted murder and manslaughter cases from Police Station investigation through to the Court of Appeal and one case of alleged fox worrying! He has also represented one 60's guitarist who had the top selling single one year who now writes children's stories and Joe Strummer's Roadie in a cultivation of cannabis involving a large converted barn.
Ian still represents the person who three firms ago he did his first advocacy for at Magistrates Court and regards client loyalty as crucial to his success and that of the business as a whole.
Interests and Hobbies
Member of the British Film Institute
Cooking (particularly South East Asian fusion) and eating out.
Fiction from Christopher Brookmyre to James Ellroy and R.D Wingfield to Irvine Welsh.
Travelling – most of Europe, Nicaragua, Mexico, Sierra Leone, Uganda and wherever invited by interesting people.
Charity Work – Ian still attends and tries to support Oxford United Football Club as often as he can each year!